May 31st, 2012
Photo: Here I am with Dr. Cohen and his original artwork.  I recently attended a small workshop with Dr. Steven Cohen to discuss the beneficial effects of fat grafting.   The meeting was held at Dr. Cohen's La Jolla  office, where he shared results of fat grafting based on personal experience with his patients.   It is now well-established that fat injections placed beneath skin can lead to dramatic improvement.   Skin damaged by radiation therapy is particularly responsive to this treatment.  Careful injection of autologous (your own) liposuctioned fat beneath the radiated skin can lead to dramatic healing and improvement in skin quality.   Dr. Sydney Coleman of New York was the first to notice that facial skin overlying fat injected areas resulted in a more youthful appearance.   This is likely as a result of the presence of large numbers of undifferentiated cells, which are naturally found in fat.
I believe that this technique promises to make substantial changes in the area of anti-aging procedures and the treatment of damaged skin.  The use of fat grafting, as a soft-tissue filler, shows promising regenerative effects on both aged and damaged skin.   The injected fat stimulates tissue repair and recreates a more youthful and supple appearance to the skin.   As a matter of fact, I am doing a fat injection procedure this morning that is specifically designed for facial rejuvenation. Injection rejuvenation and other applications for similar procedures presents innovation for the cosmetic surgery wave of the future.
May 29th, 2012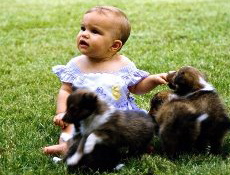 Photo: Dr. Bashioum's daughter as a baby.
Angie writes:
For years I had believed that breast augmentation surgery would give me the confidence I needed to help me feel better about my body. Not only was one of my breasts 50% larger than the other, but I had also lost breast tissue in both breasts due to nursing and childbirth. I decided to finally check into it.
I visited several surgeons that specialized in cosmetic surgery, however I never walked away feeling quite certain if this was something that I should do. After talking to a friend that had this procedure done and was absolutely thrilled with her results, I asked her about her doctor. It was Dr. Ralph Bashioum who had done her surgery.
I was very excited to make an appointment to see him. I contacted his office and spoke with Sandy. She couldn't have been any nicer or more helpful. She was professional, kind and put me at ease right away. She was able to fit me in for a consultation with Dr. Bashioum. Upon meeting him, I found him to be very warm, professional, knowledgeable, and trustworthy and to have a great sense of humor. He made me feel very comfortable, so I decided to go ahead with the procedure.