May 29th, 2012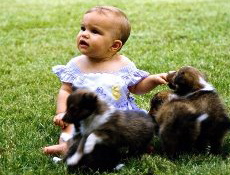 Photo: Dr. Bashioum's daughter as a baby.
Angie writes:
For years I had believed that breast augmentation surgery would give me the confidence I needed to help me feel better about my body. Not only was one of my breasts 50% larger than the other, but I had also lost breast tissue in both breasts due to nursing and childbirth. I decided to finally check into it.
I visited several surgeons that specialized in cosmetic surgery, however I never walked away feeling quite certain if this was something that I should do. After talking to a friend that had this procedure done and was absolutely thrilled with her results, I asked her about her doctor. It was Dr. Ralph Bashioum who had done her surgery.
I was very excited to make an appointment to see him. I contacted his office and spoke with Sandy. She couldn't have been any nicer or more helpful. She was professional, kind and put me at ease right away. She was able to fit me in for a consultation with Dr. Bashioum. Upon meeting him, I found him to be very warm, professional, knowledgeable, and trustworthy and to have a great sense of humor. He made me feel very comfortable, so I decided to go ahead with the procedure.
May 14th, 2012
Example of a typical Saline Implant (not Sue's surgery).  307,000 women chose breast augmentation last year.
Sue writes about her experience:
My breasts went down a cup size after I breast fed my children. I wanted to have them fixed for years, but put it off. I finally decided to go in and have them enlarged to fix them. It has now been four weeks since I had them done. I must be honest, it did take a little bit of time for me to get used to them. But I love them now and am sorry that I waited so long to have them done.
I encourage anyone that is thinking about having them done to go in for a consultation with Dr Bashioum and his staff. They answered all of my questions that I had and I never felt pressured. I will definitely pick Dr Bashioum again if I have any more work done.