June 11th, 2015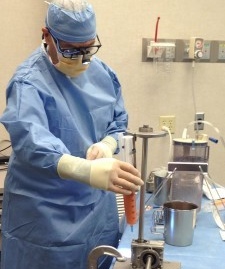 Fat Grafting has been called a dream come true. Who hasn't heard someone say they wish that they could suck fat from one area and reposition it someplace else. A tummy tuck or abdominoplasty surgery routinely includes liposuction of excess fat in the abdomen. A new technique allows plastic surgeons to gently remove this fat and prepare it to be injected in other areas. Lipo fat grafting is an effective technique to enhance breast shape/size or to use as a natural filler for lip wrinkles and natural facial rejuvenation, replacing the use of artificial dermal fillers in anti-aging injections. Other common areas for carefully harvesting excess fat during liposuction or liposculpture are the thighs, flanks and hips. This procedure is one of the most exciting cosmetic surgery developments that I've seen during my more than 30 years in practice.
Photo: Dr. Bashioum preparing for Fat Grafting
November 19th, 2014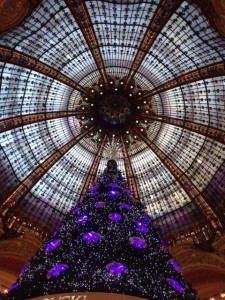 Anti-aging quick fixes or minor nipntucks usually do not offer permanent changes. However, with recent advances in fat grating techniques, the minimally invasive procedure offers facial rejuvenation with quick recovery and minimal downtime just in time for the Holidays.
Fat grating utilizes liposuction and repurposing the fat to plump sagging faces, minimize lip wrinkles and more.  Autologous (your own) fat is liposuctioned from areas like the abdomen or thighs and the concentrated fat cells are injected and sculpted into targeted areas for facial rejuvenation. Lipo-fat grafting marks a significant change in offering permanent changes over popular chemical fillers which are only temporary. In addition, using your own fat is the ultimate natural way to improve the appearance of aging. For more information on Fat Grafting for Facial Rejuvenation, click here. Fat Grafting for Breast Enlargement, click here.
Photo: Haute Holiday decor in Paris.