October 27th, 2021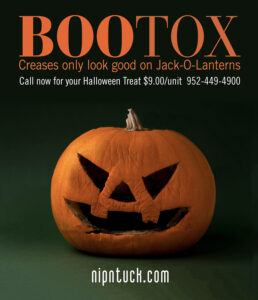 Well, it's true that wrinkles and creases only look good on Halloween Jack-o-Lanterns. Erase those scary wrinkles with our NipntuckLite™ Skincare for "Results Without Surgery." Give us a call to take advantage of our Halloween Treat!
January 12th, 2021
TWICE as nice! We are excited to announce the addition of Nancy Ruth, RN, our nurse injection specialist, is joining our NipntuckLite™ Advanced Skin Care team. Nancy is now available for hydro-facials, medical facial peels and dermablading, including skincare product education. Call today and put your Best Face Forward in 2021!
*Up to 20% off your first skincare spa treatment with Nancy. Most treatments and injectables can be performed at the same appointment.