May 11th, 2017
Forehead lift surgery may be considered to correct drooping or sagging eyebrows, prominent forehead wrinkles and/or hooding (drooping) upper eyelids, and is effective in providing facial rejuvenation. A forehead lift is also called a brow lift, endoscopic forehead lift, or upper facelift. Factors contributing to these commonly unwanted changes in our facial appearance include normal aging, genetics and sun exposure. During a forehead lift surgery, forehead skin and muscle are surgically sculpted, repositioned, and/or tightened to rejuvenate the forehead for a more youthful appearance.
KSTP's Twin Cities Live cameras followed our patient during her experience Bashioum Cosmetic Surgery Center having a forehead lift. Connie was bothered by a family history of prominent forehead wrinkles and sagging brows, so she considered surgery when Botox® failed to correct her concerns. She was filmed on the day of her surgery and 6 weeks later, Dr. Bashioum joined her on the TCL set to discuss her procedure and recovery. Many thanks to Connie for sharing her story and allowing cameras to document her stunning result.
Watch her video here. https://youtu.be/EeuaG3119Rs
April 30th, 2015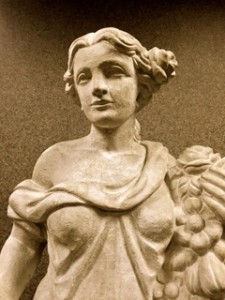 Nose Surgery Series
Jessie thinks about her nose surgery expectations and writes: I am hoping that after my surgery, I will have a decrease in the overall size of my nose. I also want my tip to point upwards, not down as it currently does and of course, to have a straight nose in my profile.  I believe that having this surgery will make me a more confident person and will motivate me to be a healthier person.   What I mean by "healthier" is having a better outlook, being more active and just more beautiful all around. I want to take the extra time for me, spend more time getting ready for the day, walk my dog all over the Twin Cities and be more active at the gym. I know feeling better about my nose will motivate me to make the rest of me better, too. It will allow me to be more confidence out in public. I think being more active socially and physically will improve my life.
I have thought a lot about the recovery and I do not think it will be a problem for me. I do not have any children and I have been able to take time away from work to recover. I am also lucky to have family close by and they have volunteered to take my dog for a few days while I recover. I am expecting that I will be somewhat sore for several days after the surgery and expect the obvious swelling and bruising. I think the minor pain from the surgery will be less than the anguish I feel now from the facial appearance I currently have.
Editors Note: Next time Jessie's story continues with a video interview the day of surgery, then next week clips of her actual surgery.