November 20th, 2013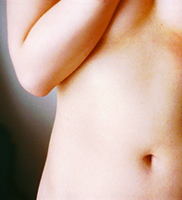 Nipntuck Naturalâ"¢  is a revolutionary new way of thinking about plastic surgery. I am pleased to offer patients the option to choose new no  implant breast enlargement surgery, as debuted on the  KQRS Morning Show broadcast in Las Vegas, last year and I talked about it on stage this year. As Brad Blanks mentioned "Booty to Boob" is real and fat from one area can be used to sculpt fuller breasts without using implants.
Regenerative medicine features this specialized fat grafting procedure. Typical donor sites for fat cells include areas of the abdomen or flanks. Fat grafts naturally contain a population of adipose specialized cells. The regenerative properties of these cells are particularly effective for the new procedures, because the fat cells become a natural living part of the tissues wherever it is placed.
This revolutionary technique is not limited to cosmetic breast surgery. These special properties are beneficial for many types of anti-aging procedures, such as facial rejuvenation. Fat grafting is an outpatient, clinic-based procedure and the quick recovery is changing many aspects of cosmetic plastic surgery today. I find that my patients appreciate having another option when it comes to breast enlargement. Nipntuck Naturalâ"¢ is effective in using this new natural technique to offer fuller breasts, without the worry of having implants.  
November 18th, 2013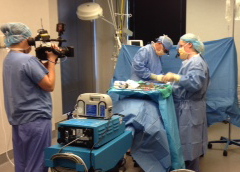 Filming continued in our office for an upcoming segment for Twin Cities Live on KSTP TV.  Abdominoplasty or tummy tuck surgery is one aspect of figure restoration after pregnancy. Tummy tucks are  effective in repairing torn or stretched muscles and tightening excess tummy skin. Hernia repairs and belly button re-positioning may also be accomplished during this surgery. Women often become discouraged when they have difficulty returning to their pre-pregnancy figure.
An important fact to keep in mind is that no amount of exercise or diet can correct torn muscular tissue or excess skin. This is a compelling reason why the tummy tuck has gained acceptance and increased in popularity.  Stay tuned following our patient's recovery, when we reveal the final result on TCL later this winter.