February 24th, 2020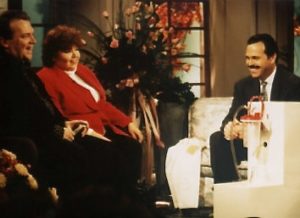 What's New In Liposuction?
Photo Left: Roseanne Barr and Tom Arnold and me during a light-hearted interview about lipo at KSTP studios ages ago! Liposuction was first pioneered by French Surgeon, Dr. Charles Dujarier in the 1920's. But it didn't really become popular until 1982, when another French surgeon, Dr. Yves-Gerad Illouz devised a new method using suction-assisted liposculpture.
While the liposuction procedure has been refined over the last decade, suction-assisted liposculpture still remains my main choice for appropriately selected patients in my practice. It is particularly effective in removing fat from stubborn areas where traditional exercise and diet are ineffective.
Remarkably liposuction and liposculpture have enjoyed a long history with proven effectiveness. By using the modern specialized suction-assisted technique, it allows me to remove adequate volumes of fat. In addition, I am using newer smaller cannulas that can be used for delicate fat removal involved with designing customized sculpting for patients. Minimal discomfort and downtime contribute to liposculpture being a popular procedure this time of year as melting snow signals a return of warmer weather in Minnesota. Nationwide, liposuction remains in the Top 5 non-invasive procedures, with about 260,000 done each year. Photo: Roseanne Barr and Tom Arnold and me during a light-hearted interview about lipo at KSTP studios ages ago!
August 15th, 2018
BEWARE OF PHOTO FILTERS: "Selfie-itis"
Do you use photo filters on social media like Instagram or Snapchat? There is new data suggesting that the extreme use of glamor filters on social media might cause BDD or Body Dysmorphic Disorder. According to the Mayo Clinic, BDD is described as intensely obsessing over your appearance and body image, repeatedly checking the mirror, grooming or seeking reassurance, sometimes for many hours each day. So when a person gets used to seeing themselves in Selfies that are not accurately representative of how they really look, dissatisfaction of personal appearance might start to take hold. In the past, expensive photo altering programs used to be available only to Hollywood stars, to create clear skin, flawless hair, and slenderized body parts. Retouched photos filled glossy pages of popular magazines. Now in this hyper digital age, social media users are turning to relatively inexpensive custom filters to look perfect, like the one above. Plastic Surgeons, including myself, are seeing more patients not happy with their online photos. It is important to know the warning signs when a fun hobby becomes an unhealthy obsession. When BDD leads to obsession and the inability to function adequately in your daily life, causing significant distress, there may be a problem. Perhaps it is time to consult with a mental heath professional, not a cosmetic surgeon. Physicians, as well, need to be aware of what I call Selfie-itis.
Screenshot above- RetouchMe: Body & Face Edition, Beauty app for Perfect Selfie
by Alexander Lozitsky