September 18th, 2014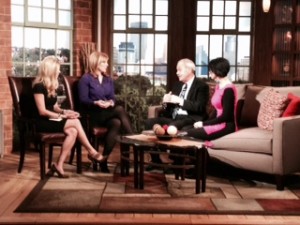 In case you missed the live episode for our #MommyMakeover series, here is another segment for  Twin Cities Live  on  KSTP-TV. Lisa graciously shared her own personal experience about considering and deciding to have breast enlargement restoration surgery after pregnancy. Her story is typical of patients we see that are unhappy with physical changes that may occur following pregnancy and nursing. We thank Lisa for allowing the Twin Cities Live cameras to document her journey.  Please click here to watch  our patient's story of surgery, recovery, as we reveal her final result on  TCL.
Photo: Dr. Bashioum and Lisa on the Twin Cities Live set at KSTP, St. Paul, MN.
January 10th, 2014
I will be appearing on Twin Cities Live on Tuesday Jan. 14th for a story about Mommy Makeovers.  TCL has been following our patient, Christina's journey with her cosmetic restoration surgery following childbirth. We thank Christina for allowing cameras to film her surgery and candidly share her reasons for having a Mommy Makeover. Christina and I will be in the KSTP-TV studio live on Tuesday to talk about all the options that are available today to consider when exercise and diet are perhaps not enough to return to pre-pregnancy bodies.
In case you miss the episode, watch Christina's story click here.
Photo of TCL co-hosts Elizabeth Ries and Chris Egert, courtesy KSTP.