November 26th, 2012
A past issue of    People Magazine  features the photo of Heidi Montag and the headline about having multiple cosmetic surgeries.   The article "reports" on the 10 cosmetic surgery procedures Heidi Montag had.   While most people usually choose not to disclose such information, Heidi appears to have been quite cooperative in the story.   The Huffington Post has published the "staged" before and after photos of Ms. Montag.  The questions remains, why were identically posed before and after photos made available to the press?   A logical explanation has since been reported that the surgical event was nothing more than a publicity stunt orchestrated by the actor and her doctor.   Hollywood thrives on this stuff.  This Us Magazine cover featured her, as well.
 And it has obviously worked!   But a firestorm of criticism and discussion followed the report and Heidi has since voiced regret.   Questions of addiction or obsession with plastic surgery have even surfaced and the media is quick to point to this growing trend in their Hollywood Plastic Surgery Hall of Fame.
My opinion is that this might be about an addiction or obsession, but more specifically, it is more about getting attention.    It is never a good idea to undergo so many surgeries at one time.   Luckily for the 23 year old, Heidi apparently didn't have complications.   However, she has faded from the limelight.
The likelihood of having something going wrong skyrockets when multiple surgeries are performed.   I choose to be considerably more cautious when it comes to doing multiple procedures.
November 22nd, 2012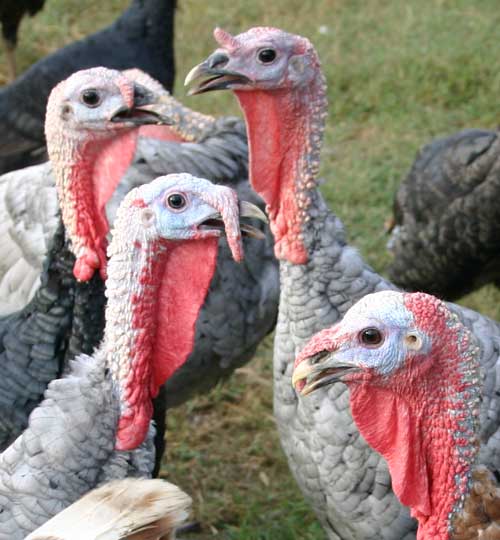 Photo: Courtesy of North Carolina State University, Cooperative Ext.
Neck aging usually occurs right along with other changes to the face.   As the laugh lines get longer and the jowls begin to hang, the laxity of aging neck skin causes it to begin to sag.   This laxity is commonly referred to as "turkey neck or turkey waddle."   It requires a type of skin tightening procedure to get rid of the extra sagging skin.
Simple liposuction is not enough when significant loose skin is apparent.  I generally recommend a facelift to correct the neck for two reasons.   The primary indicators of aging are reflected in jowls and prominent laugh lines.   They most often appear as part of a less youthful facial appearance and are easily corrected with a facelift.   Secondly, the most effective skin tightening is best accomplished by rotating the skin up toward the ears, in combination with facelift procedures to address jowls.   There is no need to keep a turkey neck unless, of course, it is Thanksgiving!