February 25th, 2011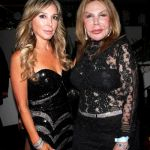 Has Hollywood lost it's collective mind?  According to TMZ, "Real Housewives of Miami"  star Marysol Patton's (left) gorgeous 76-year-old mother Elsa Patton ( right) has stolen the show with her exotic beauty and sexy …
I respectively disagree and find Elsa's appearance most alarming!  Certainly this must be Hollywood delusion.
February 23rd, 2011
According to a recent article in the New York Times, the objective of plastic surgery in Europe, says Dr. Michel Soussaline, a Paris surgeon with more than 30 years of experience, is "to keep the natural beauty and charm of each individual woman, not to fit some current ideal of beauty."
We will likely see the opposite of this philosophy during the parade of Hollywood stars on Red Carpet this Sunday.   The Academy Awards receives worldwide attention, only partly due to handing out the coveted Oscar statues.   The rest of the media hype revolves around fashion, make-up and cosmetic surgery, and especially targeting those who look less than divine.
It has been reported that American women who particularly spend so lavishly on cosmetic surgery, fillers and wrinkle potions, prefer to be noticed.   I tend to agree with this premise.   However, by contrast, European women are more discrete and are genuinely thrilled when nobody notices a little Nipntuck.   We'll see if this year's Oscar coverage fulfills these claims.