August 8th, 2012
On the days leading up to my abdominoplasty or tummy tuck surgery, I got more and more anxious.   During my pre-operative call with one of the nurses, I shared my anxious feelings.   They reassured me that it was a completely normal feeling and many patients experience the very same feeling.   The morning of my surgery was completely different – I was excited!   I was actually looking forward to NOT thinking about my baby pooch anymore!
The day of surgery was described for me in great detail prior to my surgery.   So I was well-prepared and I can honestly say that there were no surprises.   My recovery was just as they said it would be – very similar to my c-sections, but a little longer.   When I was sent home, I was in a considerable amount of pain, but as soon as I got home and got settled in my own bed, my pain improved.   Dr. Bashioum's instructions were clear and it was imperative that I stay on top of the pain and take all of the medication prescribed.   That meant around the clock for the first few days.   Ice also helped tremendously.   Getting in and out of bed was difficult at first, but I realized that the more I tried it, the easier it got.   There was a balance that I had to strike between resting and being somewhat active.   I overdid it on post-op day 3, and did not stay hydrated enough.   However, some rest and a lot of water made me feel MUCH better.
Check back next time to follow my tummy tuck recovery.
April 5th, 2012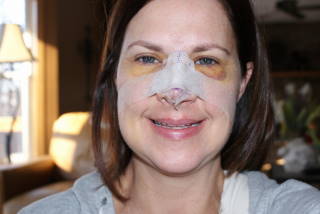 Plastic surgeons most often want to give you what you want.   I really think this stems from a profound sense of responsibility regarding patients placed in a  physician's care.   This responsibility is firmly instilled in young residents during plastic surgery training.
Patients frequently bring in pictures saying, "I want my nose to look like this."   Several factors dictate whether this nipntuck request represents realistic expectations.   It is  important to understand the possibilities and limitations presented by the anatomy of a particular nose, the aesthetics of the individual facial structure and  desires of the patient.
Modern rhinoplasty philosophy and techniques do give us a vast number of combinations with regards to nose surgery.   We are able to either increase or  decrease the size of any part of your nose.   For example, a surgeon might increase the height of the bridge of the nose, while decreasing the width of the tip.
Unfortunately, these techniques are not as precise as sculpting a piece of metal or clay.   In addition, your body will do some sculpting of its own while healing.  On occasion, carefully placed cartilage grafts will be absorbed (lost) by your body, perhaps requiring revision surgery.   Finally, complications can and do occur.  Several of my patients have shared their experience with having a rhinoplasty or nose job.
Photo is Lisa during her recovery.  Click here to  read Lisa's blog and see some  film clips of actual surgery.
As the saying goes, "You can pick your friends, you can pick your nose, but you can't pick your friend's nose!"