February 24th, 2015
At Nipntuck.com our goal is for you to look better naturally. We want you to feel more confident in your skin without looking like you've changed your identity! Because we want to give you the most natural results, other people in your life may not realize you've had cosmetic surgery. Cosmetic surgeons and salon professionals have one goal in common: we want you to look more beautiful. So if you are visiting your stylist (aesthetician, hair guru or makeup artist) for the first time after having facial cosmetic surgery, please consider sharing a little bit of information with them…            
Tell them how you feel. Healing takes time and each person is different in the way they heal. Although you may feel well enough to go back to most activities of daily living just a few days after surgery, your body is still healing and there may be areas of your face and scalp that are still sensitive to the touch. Share this information with your stylist so that she/he may take necessary precautions to keep you safe and comfortable during your treatments.          
Show them your scars. Scars are necessary for surgery but we aim to place scars in areas of your body where they will be hidden by natural skin creases, hair and/or light make-up. The average scar takes six weeks to reach 80% of its maximum strength, so if you have recent scars from facial surgery, please let your stylist know so that she/he may protect healing skin from further stress.
Tell them about changes in sensation. Temporary changes in sensation are common after surgery. These changes may take up to six months to return to normal. During this time you may experience numbness and/or tingling in your face and scalp and you may not be able to carefully judge whether something is too hot or too cold. If you have residual numbness and/or tingling after facial surgery please share this information with your stylist and allow them to protect you from potentially damaging styling tools and products.
Hair graphic designed by freepik.com
February 16th, 2015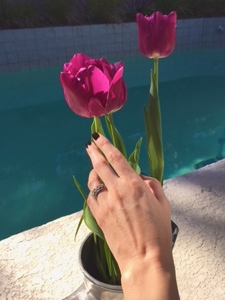 Just when you think social media has covered it all, the popularity of the "selfie" is taken to extremes. Perhaps driven by the photoshopped perfect images flooding the Internet now, savvy social media users want the photo record of their life to be perfect, too. Enter cosmetic surgery hand makeovers for the newly engaged to showoff that new ring in a "ring finger selfie." It used to be that a manicure would be sufficient for engagement ring photos, but now some women are more critical of sharing photos that show imperfections like age spots or wrinkled hands.
While cosmetic plastic surgery is continuing to become more popular in all the traditional categories, such as breast enlargement and facelifts, there has been an expansion in non-traditional areas recently. It is understandable that with every medical advancement, a new market is created and today social media essentially stirs the pot for new cosmetic surgery trends. Autologous fat grafting, is a relatively new technique using your own fat that is injected for plumping up the skin to minimize signs of aging. It is currently being used for a variety of anti-aging procedures. Maybe the added scrutiny of selfies, now make hands and feet also fair game for cosmetic makeovers. While I haven't specifically seen the request for engagement hand rejuvenation surge here in Minnesota, the stigma for having cosmetic surgery has quietly been removed, become more accepted and is no longer reserved exclusively for the rich and famous. Are you ready for your closeup?