July 27th, 2017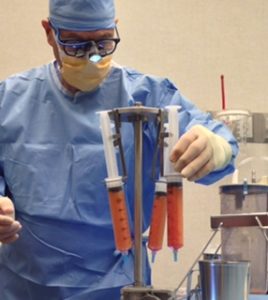 Recycle Your Own Fat!
Ever dreamed of moving extra fat to another area of your body needing some plumping? Well now we can, with a relatively new procedure called "Natural Fat Grafting." The technique I use basically employs specialized liposuction to remove and harvest unwanted fat in one area, then I artistically inject and sculpt the adipose stem cells into another area after a quick spin, like seen in our photo.
Fat grafting or sometimes called Lipo-fat transfer can be an effective anti-aging alternative without the use of artificial chemical fillers for facial rejuvenation and correcting lip wrinkles or refreshing and plumping lips. When using autologous (your own) fat for increasing or re-shaping breasts and correcting uneven breasts, more than one session is sometimes needed. However, fat injections are particularly helpful to minimize a small divot left from a biopsy or lumpectomy during a single office visit. While natural fat grafting is not the answer for weight loss, it has shown to be safe and effective in targeting localized unwanted fat and offers patients another option in the toolbox of elective cosmetic surgery.
November 10th, 2016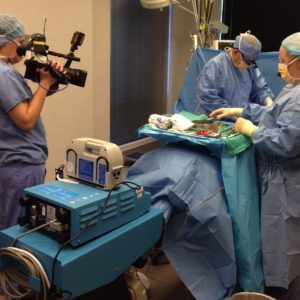 Is it true that how you feel about your body image affects your self-confidence? During my practice as a cosmetic surgeon for over 30 years, I have found that many patients report they have a renewed level of self-confidence after their recovery from cosmetic surgery. Perhaps the perception of feeling that a physical change reflected in body image contributes to feeling better about yourself. This change may contribute to a boost in self-confidence. Certainly this has been the case with Lisa. She graciously shared her story and insights with "Twin Cities Live" awhile ago, but this same scenario happens every week with patients in my office following surgery. My staff and I always appreciate hearing stories like Lisa's. Sometimes a subtle change can even make a difference, particularly for women experiencing physical changes to their body following pregnancy. Often these changes cannot be fixed through diet or exercise, but elective cosmetic surgery can be the answer. Collectively these surgeries have been referred to as Mommy Makeovers. Breast restoration after pregnancy is one particular surgery that is quite effective in restoring a woman's figure to eliminate breast sagging and/or loss of fullness. Watch Lisa's story on our Nipntuck YouTube channel in this video.
Thank you again to Lisa for allowing the "Twin Cities Live" cameras to document her story.