August 5th, 2014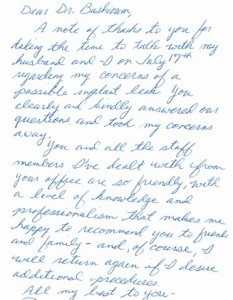 JE writes: (used with permission)
Dear Dr. Bashioum,  A note of thanks for taking the time to talk with my husband and I on July 17th regarding my concerns of a possible implant leak. You clearly answered our questions and took care of my concerns.
You and all the staff members I've dealt with from your office are so friendly, with a level of knowledge and professionalism that makes me happy to recommend you to friends and family- and of course, I will return again…
Dr. Bashioum replies: We thank you for your kind comments, it is our pleasure. I am very proud of the wonderfully dedicated staff we have here, many of whom have been with me for decades.
June 13th, 2012
Kristina writes about her surgery with Dr. Bashioum:
I want to thank Dr. Bashioum and all his staff for everything they have done for me. I had breast augmentation (enlargement) surgery 2 weeks ago and just had my post op follow up appointment today. Everything is going perfect! I had been contemplating having this surgery for 6 years and I finally got the courage to go ahead with it. I was referred to the Bashioum Cosmetic Surgery Center by a former employee and a friend who had the same surgery. As soon as I walked into the clinic I got a "good vibe." The entire experience  from my initial consultation, to trying on sizes 4 different times prior to surgery, to the day of surgery and now, has exceeded my expectations. The entire staff is so friendly and always knows who I am when I call in. The staff made me feel so comfortable the day of surgery.  
All in all, I am grateful to everyone. I am very pleased with my results and it has only been 2 weeks since my surgery. I appreciate the care and knowledge that they have and I would recommend anyone who is considering cosmetic surgery to improve himself or herself to see Dr. Bashioum.