October 3rd, 2016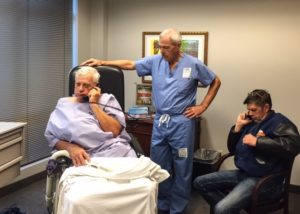 Last week the KQRS Morning Show with host Tom Barnard, did a live broadcast with Dave Mordal calling Tom's nipntuck surgery play by play. Dr. Bashioum stands by to chat with listeners before prepping Tom for his surgery.
In case you missed tuning in for the Thursday Morning Show, go to KQ 92.5 FM podcast or listen online.  You can also see video clips and other photos on our Nip N Tuck Facebook Page here.
Everyone at Bashioum Cosmetic Surgery joins The Morning Show listeners to wish Tom a speedy recovery. Keep in mind that facelift surgery may take 6 weeks to 6 months for a complete full recovery and many of our patients find that the most difficult part of having surgery is being patient during this healing process. You can see more info on Facelift Rejuvenation here.
March 23rd, 2015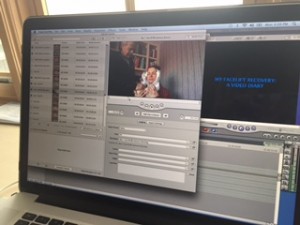 I was pressed into service this weekend to help Lindsay install her editing software onto her new computer. After months of attempting to move it from one computer to another, we needed to do an entire reinstall. As you can see from the photo, she's back in business and working on her personal story of documenting her facelift recovery in a video diary. As a filmmaker and editor of our blog, she felt that it would be helpful to anyone contemplating having facial rejuvenation surgery. I heard her laughing just before taking this photo, so I'm guessing she's getting a kick out of herself listening to the audio. We did get quite a few laughs during the process of the filming. No telling when it will be done, but we will post it here first!