March 23rd, 2015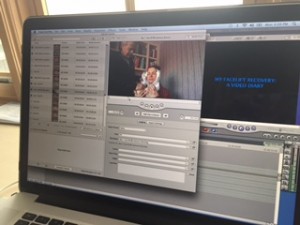 I was pressed into service this weekend to help Lindsay install her editing software onto her new computer. After months of attempting to move it from one computer to another, we needed to do an entire reinstall. As you can see from the photo, she's back in business and working on her personal story of documenting her facelift recovery in a video diary. As a filmmaker and editor of our blog, she felt that it would be helpful to anyone contemplating having facial rejuvenation surgery. I heard her laughing just before taking this photo, so I'm guessing she's getting a kick out of herself listening to the audio. We did get quite a few laughs during the process of the filming. No telling when it will be done, but we will post it here first!
November 19th, 2014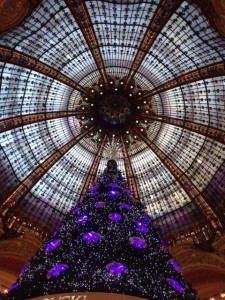 Anti-aging quick fixes or minor nipntucks usually do not offer permanent changes. However, with recent advances in fat grating techniques, the minimally invasive procedure offers facial rejuvenation with quick recovery and minimal downtime just in time for the Holidays.
Fat grating utilizes liposuction and repurposing the fat to plump sagging faces, minimize lip wrinkles and more.  Autologous (your own) fat is liposuctioned from areas like the abdomen or thighs and the concentrated fat cells are injected and sculpted into targeted areas for facial rejuvenation. Lipo-fat grafting marks a significant change in offering permanent changes over popular chemical fillers which are only temporary. In addition, using your own fat is the ultimate natural way to improve the appearance of aging. For more information on Fat Grafting for Facial Rejuvenation, click here. Fat Grafting for Breast Enlargement, click here.
Photo: Haute Holiday decor in Paris.