July 31st, 2013
Rhinoplasty,  AKA "Nose job" or nose surgery has gained popularity and has jumped to the second most popular cosmetic surgery request after breast augmentation.  According to the  ASPRS, 252,352 patients chose to have their noses reshaped last year.  I have also noticed an uptick for consultations with patients having questions about changing the shape of their nose.
Patients frequently bring in pictures saying, "I want my nose to look like this."   Several factors dictate whether this request represents realistic expectations or not.   It is  important to understand the possibilities and limitations presented by the anatomy of a particular nose, the aesthetics of the individual facial structure and  desires of the patient.  I like to be honest with my patients and explain how much of a change is possible in their particular case.  While every nose surgery is personally customized, existing anatomy and facial proportions play an important role in sculpting and reshaping a new nose.
Modern rhinoplasty philosophy and techniques do give us a vast number of combinations with regards to nose surgery.   We are able to either increase or  decrease the size of any part of your nose.  Sculpting a new nose is equal parts anatomy and artistry.  For example, a surgeon might increase the height of the bridge of the nose, while decreasing the width of the tip to achieve a particularly desired result.  I design each surgical plan to be customized for my patients with these aspects in mind.  The skill of the surgeon is an important consideration in choosing a plastic surgeon.  I find that  Before and After  photos are helpful for patients to get a sense of my cosmetic surgery aesthetic.  
To read more about having nose surgery,  Lisa's Blog  is a patient diary, including her AFTER photo following her own nipntuck experience.  For more of Lisa's story (including actual surgery footage) search for Lisa's Blog in our Search feature.
July 15th, 2013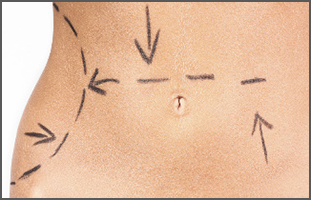 Anytime the skin is cut, a scar will form to close the wound, so scars are inevitable following most surgeries.   Emergency surgery will unfortunately leave scars that are usually more obvious, due to having to react quickly to save a life.   The trade-off is obvious.   Plastic surgeons have considerable training in this regard.   Elective cosmetic surgery does allow time for planning, so the telltale surgery scars are often minimized by the advantage of careful incision placement.   This planning allows for specific design of scar placement and the application of technologies that contribute to reducing the appearance of most scars.    
I intentionally place any visible scars in such a way that they are either easily covered by the smallest bathing suit a patient is likely to wear or able to be concealed with makeup and/or hairstyle.   Elegant surgical design is possible when all these things are taken into consideration.   Having the time and experience in making preparations for the surgical plan offers the best opportunity to minimize noticeable scars following surgery.