Got Crow's Feet? Brow Furrows or Wrinkles?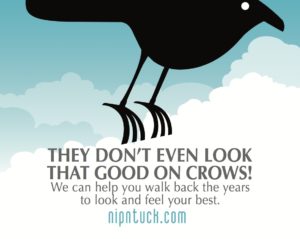 Got Crow's Feet? Brow Furrows or Wrinkles? We can help.
The new FDA approved Botox® offers simple solutions, so call us today to schedule a personal treatment consultation with our Board Certified Plastic Surgeons. Spring is around the corner, why not look and feel your best!
2 Responses to "Got Crow's Feet? Brow Furrows or Wrinkles?"
Denise Says:
March 15th, 2017 at 5:30 am

I had a face lift by Dr. Smoot. I cannot say enough good things about my experience. So professional and yet she spent as much time as I needed to find out the results I wanted. Her staff kind and informative as I called several times with questions. Privacy is very important to me. All was handled very discreetly. When I went for my pre-surgical exam, my own Dr. told me she was glad I was going somewhere very reputable. More than once Dr. Smooth thanked me for having confidence in her. I guess what goes around comes around because now she has given me confidence in me. This was one of the best things I ever did for myself! Thank you Dr. Moghaddam Smoot and all of you at Bashioum Cosmetic Center.

nipntuck editor Says:
March 16th, 2017 at 1:22 pm

Thank you for sharing your personal experience at Bashioum Cosmetic Surgery Center. We are always interested to read patient comments on our blog and so pleased that we met your expectations. It is gratifying that you feel confident with your decision, as it is our number one goal with all our patients.
COMMENT OR QUESTION