May 2nd, 2014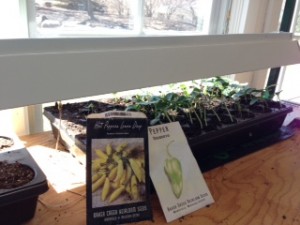 While I'm waiting for the threat of frost to disappear here in the Minneapolis, I've started some unusual seedlings inside to add to my garden this season. I'm doing some custom growing for friend and award-winning Billylly  at Sushi Fix, in Wayzata. Besides 2 kinds of Asian shiso leaf again, we are trying heirloom seeds for a Japanese variety shishito peppers and Peruvian hot lemon drop peppers. I guess this year makes my unique garden a cultural culinary melting pot! To watch a short documentary film about Billy Enkhbilgee Tserenbat 's  journey to become a sushi chef, click here.  
September 26th, 2013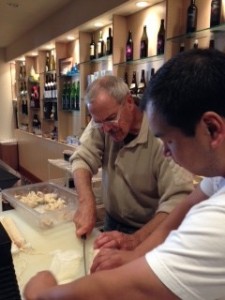 Here I am lending surgical precision to Chef Billy Enkhbileg Tserenbat at Sushi Fix, as he prepares our collaboration for Foie Gras  sashimi. The  seasonal special will debut on his menu today, Thursday 9/26.  Minneapolis is fortunate to be able to enjoy the extraordinary talents and creativity of this young chef.
Lindsay filmed and edited this short film about  Sushi Chef Billy, as he shares his story about how a boy from Mongolia ended up with his new restaurant and is living his dream at Sushi Fix, in Wayzata. Watch it click here:  YouTube link