September 30th, 2013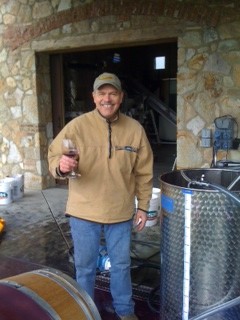 It's harvest time at Kitchak Cellars in the Napa Valley and there's nothing better than the free run juice from freshly crushed grapes.
By all accounts, it looks like 2013 will be an extraordinary vintage. It's an exciting time in the valley and the fragrance of harvest time is unmistakable. Working with Peter Kitchak in the winery sure does make me appreciate a glass of good wine.
March 30th, 2012
Here I am lending a hand to box up our 2011 vintage of Kitchak Cellars  Scherzo during my responsibilities on the bottling line at the winery in Napa Valley last weekend.
We also bottled the 2009 Concerto. The grapes for our signature red wine are 100% Cabernet Sauvignon. The 2009 vintage had an excellent growing season, characterized by warm sunny days and cool nights.
The grapes were hand picked before dawn on September 25 and October 13, 2009. Concerto has been aging in new French Oak barrels for 30 months and after bottling, it will spend another year resting in the cellar.   It will finally be released next March.   Patience is definitely a virtue when you are involved in the craft of making fine wine.