Patient Experience is 5/5 Stars!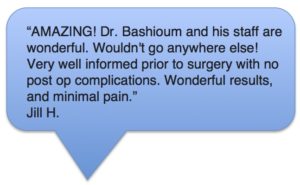 Thank you Jill for taking time to share your very kind comments on the Nipntuck FB page. We strive to educate our patients on their surgery options and find that offering 24/7 physician availability to our patients during recovery is very helpful, all part of my "Cosmetic Surgery Bill of Rights."
Happy Holidays!
One Response to "Patient Experience is 5/5 Stars!"
Kari Says:
January 12th, 2017 at 11:09 am

Thanks to Dr. Bashioum and staff, I am very pleased with the results. Everyone at Nipntuck took very good care of me until I got the results I was looking for. I couldn't be happier!
COMMENT OR QUESTION