October 26th, 2012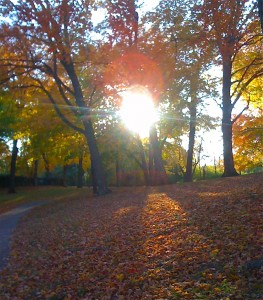 Lindsay and I took our dog Cocoa for a walk a couple weeks ago.  The leaves are always so great this time of year, but the carpet of color that you can see here signals the winter that is inevitable.  Lindsay used the camera on her new IPhone 5 to snap this photo during our walk through Shaver Park in Wayzata.
October 24th, 2012
Lorray writes:
I am officially 6 months post op from my implant surgery with Dr Bashioum. I can't tell you how happy I am that I went ahead with the surgery and my choice of Dr Bashioum.   I had wanted to do breast enlargement for years and years.   FINALLY… I mustered up the courage for the consultation and once I did, it was a slam-dunk to move forward.   My biggest fear was how to face my (conservative) family and circle of friends and whether they were going to accept the decision I had made to "complete" myself.   I say it like that because I didn't always feel very feminine and really struggled with how imbalanced my figure was.   It seemed like everything about me was "big" except my breasts – clothes didn't fit and I felt almost deformed with that missing link to my figure.   Now, I'm a size 10/12 EVERYWHERE and I love it.  
Shopping still isn't a favorite activity of mine, but it is a lot more exciting when you try on a dress and you actually fill it out and it looks fabulous!!  More people tell me how great I look.   Everyone has supported my decision. My friends ask me for Dr Bashioum's card when they find out and they want to know all about the whole experience.
Dr Bashioum and the entire staff at the office are some of the nicest, most professional and caring people I have ever met.   They treated me with respect, kindness and concern for my health and my choices.   My intent was to "research" a few surgeons before moving forward, but I stopped at one – I knew from the start they'd take great care of me. Dr Bashioum's talents being a gifted surgeon where what I wanted.   I highly recommend him.
Image: Salon Magazine