Wayzata Maple Tree Tapping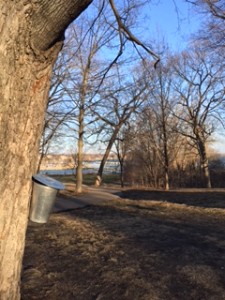 Springtime cool nights and warm days are perfect conditions to get the sap flowing! This year for the first time, Maple trees in Wayzata's Shaver Park are sporting taps. Additional trees are also tapped in the Wayzata's Big Woods nature area, as well as the annual Sugar Bush at the Minnesota Landscape Arboretum. The Arboretum connects over 250 trees by running sap lines to collect the liquid. It takes 40 gallons of sap to make just one gallon of delicious Maple syrup to serve up for their famous Pancake Breakfast. This year pancakes are being flipped on March 19th from 8AM-1PM. See you there!
For more information on the Wayzata tapping project go to Wayzata Maple Tapping.
COMMENT OR QUESTION