No Cook Thanksgiving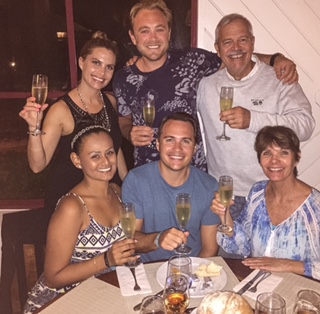 The Bashioum family skipped all the cooking this year for the traditional Thanksgiving feast and traded locales for the sun and sandy beaches at Club Med Turkoise in the Turks and Caicos Islands. It was great to spend a relaxing weekend bobbing in the surf and sharing a celebratory toast to all the wonderful GO's ("Gentils Organisateurs" or Genteel Organizers) and the friendly staff of local islanders. Shout out to the always smiling restaurant hostess Samara, who snapped this photo for us.
3 Responses to "No Cook Thanksgiving"
Brad and Es Says:
December 27th, 2015 at 8:45 am

What a Great picture of a wonderful family!…Miss our Wayzata neighbors…Happy New Year!!

nipntuck editor Says:
December 27th, 2015 at 2:49 pm

Thank you! Hope the New Year finds you and Es happy and healthy, Highcroft isn't the same without you both.

Brad and Es Says:
December 27th, 2015 at 3:51 pm

Thanks guys!!…Josh and Ashley all grown up…Beautiful Family..