November 19th, 2014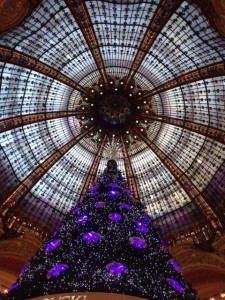 Anti-aging quick fixes or minor nipntucks usually do not offer permanent changes. However, with recent advances in fat grating techniques, the minimally invasive procedure offers facial rejuvenation with quick recovery and minimal downtime just in time for the Holidays.
Fat grating utilizes liposuction and repurposing the fat to plump sagging faces, minimize lip wrinkles and more.  Autologous (your own) fat is liposuctioned from areas like the abdomen or thighs and the concentrated fat cells are injected and sculpted into targeted areas for facial rejuvenation. Lipo-fat grafting marks a significant change in offering permanent changes over popular chemical fillers which are only temporary. In addition, using your own fat is the ultimate natural way to improve the appearance of aging. For more information on Fat Grafting for Facial Rejuvenation, click here. Fat Grafting for Breast Enlargement, click here.
Photo: Haute Holiday decor in Paris.
April 30th, 2013
My daughter's wedding is in June and I want to look my best.   Lately my face seems to have sagged.   What can I do?
Modern facelift techniques have a relatively short recovery period, so most patients are out and about in six to seven days after surgery.  The initial period for swelling and healing lasts for about 6 to 8 weeks.  As we get older, the fat layer beneath our skin diminishes, causing the appearance of aging. We have a great new technique to restore that fat layer now. Natural lipo fat grafting might offer an effective choice for you.
Fat transfer is an ideal clinic-based solution for facial fat loss. Liposuction fat is removed from selected areas, then fat is transferred and sculpted with facial injections. Fat has a naturally high concentration of stem cells. It is believed these somatic stem cells help rejuvenate and thicken the overlying skin reducing wrinkles and dark pigmentation. Lipo fat transfer is an exciting choice for natural facial rejuvenation. Allowing plenty of time for recovery assures a fresh and rejuvenated look for your daughter's wedding.