Benefit: Women Run the Cities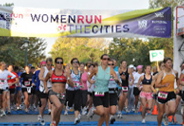 The seventh annual MNCREW Women Run the Cities event will take place on Sunday, September 22, 2013 at Minnehaha Park in Minneapolis.  Females of all ages and athletic abilities are invited to participate in the Women Run the Cities run/walk event organized by the Minnesota Commercial Real Estate Women (MNCREW).
Proceeds from this event go to The Ann Bancroft Foundation and CREW Network Foundation.  This year's running events include the Girls 1-mile Fun Run that begins at 8:10 am, Women's 5K Run/Walk at 8:30 am and the Women's 10-mile Run at 8:00 am.
The race will begin on Godfrey Parkway located at the north end of the park. Click here for registration, directions, parking and more information. Photo: Courtesy MNCREW Women Run the Cities
COMMENT OR QUESTION