July 13th, 2015
Using Fat Transfer To Naturally Enhance & Rejuvenate Your Lips.
Lip wrinkles are a common occurrence as we age, and can occur for a variety of reasons. Too much sun exposure, smoking and/or genetics are common reasons why these unsightly lines begin to appear on our faces. Lip wrinkles are lines that radiate out from the lip margin and can cause lips to look less full and create a more pronounced pursed look. When lip lines begin to be more apparent, it is often combined with a loss of lip volume or fullness at the same time. These changes contribute to the overall appearance of facial aging.
Fortunately, there are new options to reduce lip lines, besides the injectable artificial fillers. New advances in regenerative medicine has ushered in revolutionary changes in many anti-aging procedures. Is regenerative fat transfer the Fountain of Youth? Perhaps. Regenerative medicine offers stunning new advances in natural procedures for facial rejuvenation, including restoration of youthful lips. Dr. Bashioum's Nipntuck Natural™ lip filler procedure features this new fat graft injection technique. Starting with liposuction, Dr. Bashioum will remove your own fat cells from selected areas, then carefully transfer to another location. The regenerative properties of these fat cells are particularly effective, because the fat cells become a natural living part of the tissues wherever they are placed. Not only can the lines be corrected, but the lips can be restored to more youthful size and shape, as well. This revolutionary technique is not limited to facial rejuvenation. See More.
Photo: Lip wrinkles develop as we age.
June 11th, 2015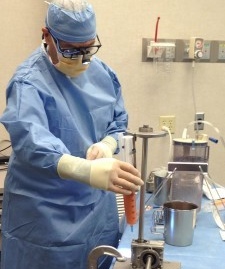 Fat Grafting has been called a dream come true. Who hasn't heard someone say they wish that they could suck fat from one area and reposition it someplace else. A tummy tuck or abdominoplasty surgery routinely includes liposuction of excess fat in the abdomen. A new technique allows plastic surgeons to gently remove this fat and prepare it to be injected in other areas. Lipo fat grafting is an effective technique to enhance breast shape/size or to use as a natural filler for lip wrinkles and natural facial rejuvenation, replacing the use of artificial dermal fillers in anti-aging injections. Other common areas for carefully harvesting excess fat during liposuction or liposculpture are the thighs, flanks and hips. This procedure is one of the most exciting cosmetic surgery developments that I've seen during my more than 30 years in practice.
Photo: Dr. Bashioum preparing for Fat Grafting