October 2nd, 2013
A new procedure being tested in the UK may give Botox® Cosmetic some stiff competition. The procedure uses patented Focused Cold Therapy by Iovera, which lends itself to the nickname "Frotox." Iovera is developed and designed by Myoscience, a Silicon Valley medical tech company. The new technique uses pressurized liquid nitrous oxide that travels at very high speeds down a fine 27G closed-end needle. Precise placement is aimed at making the nerves controlling wrinkles to become paralyzed. There is a degree of uncertainty with this procedure, because success depends on hitting the right nerves to achieve the desired result. It is not approved by the FDA in the US and while Botox® has been around for more than 30 years and has a proven track record, the recent scientific innovations in the realm of anti-aging treatments is promising.
Last month, the FDA granted additional approval to Botox® to be used for the temporary treatment of wrinkles around the eyes, often called "Crow's Feet." Both treatments last from 4-6 months and must be repeated for results to be ongoing. Currently, the only permanent remedy for wrinkle reduction and facial rejuvenation are fat graft injections. This procedure utilizes a patient's own liposuctioned fat cells, that are injected into wrinkles to minimize them. This technique is similar to using injectable fillers, without the artificial compounds. I have found that my patients appreciate a having a natural option when addressing facial aging. The added benefit of the regenerative properties of fat grating methods makes it a desirable choice for my patients.
Photo: Courtesy of Iovera
June 26th, 2013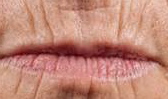 Lip wrinkles or sometimes referred to as "smokers lines," are the lines that radiate out from the lip margin. They can be the result of aging, sun exposure, smoking, and /or genetics. They usually make a person look older. Women generally dislike them because their lipstick runs into the wrinkles, giving a pronounced pursed look. Interestingly, when lip lines become more apparent, it is often combined with a loss of lip volume or fullness at the same time. These changes contribute to the appearance of facial aging.
Fortunately there are new choices to reduce lip lines, besides the injectable artificial fillers. Advances in regenerative medicine has ushered in revolutionary changes in many anti-aging procedures. Is regenerative fat transfer the Fountain of Youth? Perhaps, because regenerative medicine offers stunning new advances in natural procedures for facial rejuvenation, including restoration of youthful lips. Nipntuck Natural™ features this new fat graft injection technique, which now allows us to replace facial fat loss. Simply stated, starting with liposuction, we gently remove your own fat cells from selected areas and then they are carefully transferred to another location. The regenerative properties of these fat cells are particularly effective, because the fat cells become a natural living part of the tissues wherever it is placed. Not only can the lines be corrected, but the lips can be restored to more youthful size and shape, as well.
This revolutionary technique is not limited to facial rejuvenation. Fat grafting is an outpatient, clinic-based procedure and the quick recovery time is changing many aspects of cosmetic plastic surgery today. It is an ideal solution for patients preferring more natural choices for the newest options in cosmetic surgery and represents an exciting time in the field of medicine.
It is important to seek qualified professional advice when considering these procedures. Most cosmetic surgeons do not charge for patient consultations. Here is a link to find a board certified plastic surgeon near you, The American Society of Plastic Surgeons (ASPS).