June 11th, 2015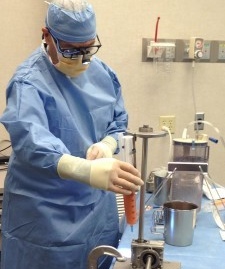 Fat Grafting has been called a dream come true. Who hasn't heard someone say they wish that they could suck fat from one area and reposition it someplace else. A tummy tuck or abdominoplasty surgery routinely includes liposuction of excess fat in the abdomen. A new technique allows plastic surgeons to gently remove this fat and prepare it to be injected in other areas. Lipo fat grafting is an effective technique to enhance breast shape/size or to use as a natural filler for lip wrinkles and natural facial rejuvenation, replacing the use of artificial dermal fillers in anti-aging injections. Other common areas for carefully harvesting excess fat during liposuction or liposculpture are the thighs, flanks and hips. This procedure is one of the most exciting cosmetic surgery developments that I've seen during my more than 30 years in practice.
Photo: Dr. Bashioum preparing for Fat Grafting
January 26th, 2015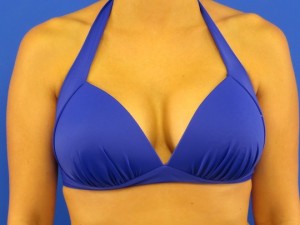 Wondering about what can be done to restore breasts after physical changes due to pregnancy and nursing? Meet our patient, Jennifer, who graciously shared her own personal experience in a short Documentary Film  (video located bottom of page). Jennifer candidly discusses considering and deciding to have breast enlargement restoration surgery following the birth of her children. Her story is typical of patients we see that are unhappy with the physical changes that may occur following pregnancy and is considered part of the Mommy Makeover surgeries. Breast restoration surgery might include breast enlargement, breast lift or the newest technique called Nipntuck Natural ® lipo-fat injections to increase breast fullness that's often lost following pregnancy.  
Photo: 2014 KQRS Real or Not Real Las Vegas Broadcast