September 22nd, 2014
Dr. Mahsa Moghaddam, MD is the newest member of our Nipntuck team and is a Mayo Clinic trained plastic surgeon specializing in cosmetic and reconstructive surgery. She is Board Eligible with the American Board of Plastic Surgery and is a candidate member of the American Society of Plastic Surgeons. Although her practice covers all aspects of aesthetic and reconstructive surgery, her special interests include breast reconstruction after mastectomy or lumpectomy, breast reduction and augmentation. Dr. Moghaddam is one of very few surgeons in Minnesota who offer all natural breast reconstruction and augmentation with autologous fat transfer. She enjoys working with men and women who desire post bariatric surgery body contouring, mommy makeovers, minimally invasive facial rejuvenation and facial reconstructive surgery after skin cancer excision. She has a particular interest in pediatric/adolescent plastic surgery and pediatric facial trauma. 
Dr. Moghaddam is seeing patients on the 2nd floor of the 1601 Specialty Clinic at St. Francis Regional Medical Center in Shakopee, every other Wednesday from 12:30-4:30pm starting on June 4th, 2014. Her next clinic will be on Wednesday October 1st, 2014. Most insurance plans are accepted. For appointments please call our Wayzata office for scheduling at 952-449-4900.
September 8th, 2014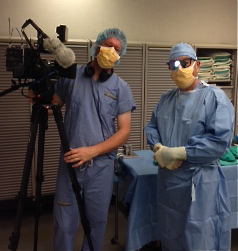 Fat grafting is the newest treatment to repair breast asymmetry following a lumpectomy surgery. Autologous or patient's own liposuctioned fat is used to sculpt a more natural looking breast. Fat is rich in stromal cells, which have regenerative properties that are especially effective in healing tissues damaged by radiation therapy often prescribed for lumpectomies. Lipo-fat grafting is a successful and natural technique for women wanting to avoid extensive surgery to correct the uneven breast shape or divot created by lost tissue from a lumpectomy. Tune in next month to Twin Cities Live to see an amazing story of one women and her breast cancer survival journey. 
For more info on fat grafting and other anti-aging benefits, click here.
Photo: Dr. Bashioum with TCL videographer, Seth.