June 4th, 2014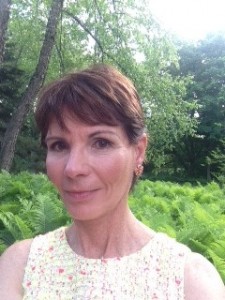 Watch our new doctor/wife facelift surgery segment that aired on Twin Cities Live yesterday. Viewers get a sneak peek into the  operating room as Lindsay is prepped for surgery. She talks candidly with Elizabeth Ries about the recovery process of having a facelift and why she chose to have surgery. I try to get a few words in, but she steals the show. Judging by her personal reaction to the before and after photos they put onscreen, it's obvious she likes her brand new haircut and feels good about her more youthful appearance. It has been an enlightening experience for me to see the patient side of things and I appreciate her willingness to share our story. It is interesting to look back and reflect on the surgery from the perspective of doctor/husband and patient/wife.
Special thanks to Katie and Julie at New Reflections Salon and Spa at their flagship location in Plymouth for providing hair and makeup for Lindsay today on Twin Cities Live.
March 24th, 2014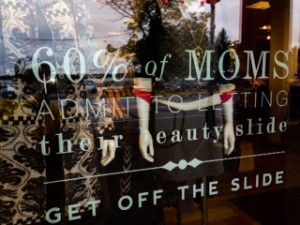 While on a walk in Wayzata late last summer, we spotted this saying on a store display window. Perhaps 60% might be an exaggerated figure, but many of my patients express a similar sentiment. Lives are busy and sometimes attention to ourselves takes the backseat to other obligations, not limited to being a mom. I often see an uptick of consultations during the spring. Common complaints include localized weight gain and facial aging. With the advances in regenerative medicine today, these 2 concerns can be addressed together now with fat grafting. The fat grafting injection procedure uses autologous (your own) liposuctioned fat, that is prepared to artfully sculpt a fresher looking face. Traditionally lipo fat was medically discarded. Regenerative medicine includes many exciting breakthroughs in cosmetic medicine, including natural facial rejuvenation, implant-free breast enlargement, breast reconstruction, treating breast asymmetry and natural lip plumping. Studies have shown that the familiar saying, "Look Good, Feel Good" has some validity. Are you ready for a little beauty boost?