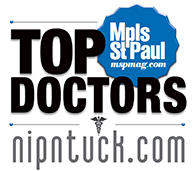 Breast Reconstruction In Minneapolis MN
Bashioum Cosmetic Surgery Center wants you to feel as comfortable as possible in our office. We take pride in offering the best plastic surgery in Metro Minneapolis and providing our patients the quality care and results to last them a lifetime. We want you to have all of the information you need in order to make these big decisions. Read on for more information about our premier breast reconstruction treatments.
What Is Breast Reconstruction
Breast reconstruction can be accomplished with various surgical techniques that restore breasts to their natural shape and feel with minimally invasive technology, leaving only small visible lines. Reconstructed breasts will not have the complete feel as the original breast, however Dr. Bashioum and Dr. Moghaddam ensure the best results possible, as well as guaranteeing that your safety is always a top priority.
Why Should I Consider Breast Reconstruction Surgery?
Breast asymmetry is a common reason for undergoing breast reconstruction surgery. All women are born with different breast sizes, but if you feel that yours need a little extra care, there are safe routes you can take for more proportionate breasts. Our Minneapolis cosmetic surgery office offers many breast reconstruction options, including breast implants, breast augmentations and autologous fat transfer.
Breast Reconstruction and Breast Cancer
Breast cancer is the most common cancer among women in the US with one in eight US women diagnosed with breast cancer at some point in their lives. Our Mayo trained plastic surgeon, Dr. Mahsa Moghaddam is highly skilled in helping women decide between the many choices they have for treatment and reconstruction of breast cancer. Dr. Moghaddam has found that many women who are eligible for breast reconstruction are not told about all of their options, so she wants to make sure that her patients know and understand all of their reconstructive options before their cancer is treated or removed.
If you are diagnosed with breast cancer, Dr. Moghaddam and Dr. Bashioum encourage you to take the time to make the right choice when it comes to your breast reconstruction options. Although immediate reconstruction is safe, there is no harm is delaying your reconstruction for personal reasons. As breast reconstruction is inherently staged no matter which option you choose to undergo, it will involve multiple procedures to achieve the desired result.
Breast cancer is a long journey for many women and can cause a struggle to re-gain confidence and self-esteem after conquering cancer. Dr. Bashioum and Dr. Moghaddam have extensive experience working with breast cancer patients to reconstruct their breasts to appear as their natural, original look and feel. Research has shown that breast reconstruction allows women to feel strong, confident and more comfortable in their own body.
Techniques Used For Optimal Reconstruction
Our patients are always our number one priority. We proudly offer many breast reconstruction options to help you find the right surgery for your specific need. Breast reconstruction usually falls into two categories: implant reconstruction and reconstruction using a woman's own tissue, also known as autologous reconstruction.
Autologous reconstruction – Autologous reconstruction can be subdivided into either reconstruction with autologous fat transfer or flap reconstruction. In special cases, we will even use a combination of the two.
Fat Grafting – Fat grafting is a surgery that allows the plastic surgeon to gradually sculpt and reconstruct your breast for a natural look and feel. Fat is subtracted from other parts of your body, such as your abdomen and thighs, and injected into your breasts with minimally invasive incisions. Similar to other reconstructive techniques, fat grafting is a staged procedure with results achieved over time. Each stage is carried out every 3-6 months and takes less than a week for recovery time for optimal results. Fat grafting is natural, flexible and versatile.
Flap Techniques – Flap techniques is a surgery that repositions your own skin, fat, and muscle for reconstructing your breast(s). Similar to fat grafting, our surgeons will also borrow from your abdomen, back, and/or buttocks to help reconstruction. With this procedure you will gain a more natural shape and feel.
Implant Reconstruction – Implant based reconstruction places a temporary expander under the pectoral muscle to create a pocket that will host a silicone or saline implant. To complete your implant surgery, you will undergo multiple visits to continue the expansion process. However, the length of time varies depending on each patient's needs and desires of their implants. Once this process is completed, the patient will have their expander exchanged for the implant. In order to achieve your desired shape and symmetry of your breasts, we may require additional procedures and visits.
Will Insurance Pay For It?
Breast reduction surgery is one of the most common procedures performed by US plastic surgeons and has been shown to be effective in reducing the symptoms and improving the quality of life for women with heavy, pendulous breasts. The American Society of Plastic Surgeons reported over 103,000 breast reduction procedures in 2013. So, if you have neck and back pain, painful shoulder grooving from bra straps, headaches and/or a rash beneath the breast area, difficulty finding appropriately fitting-clothing an difficulty exercising, you may be an excellent candidate for what is called a "medically necessary" breast reduction procedure. This procedure is often covered by most insurance companies. However, each carrier uses different criteria to determine whether your breast reduction meets their coverage guidelines.
If you are considering breast reduction surgery, you are most likely also considering the cost of the reduction. Read your insurance policy. Most insurance companies will cover medically necessary breast reductions. To make their coverage decision, they will look at a woman's reported symptoms, the duration of her symptoms and how these symptoms may have affected her quality of life, along with what other treatments have been attempted to diminish or cope with the symptoms. It is important for you to discuss your concerns with your primary care physician and to have your symptoms documented in your medical record. Letters from your primary care physician, chiropractor and/or physical therapist can be invaluable in the process to obtain prior authorization for a breast reduction. This documentation, when included in a packet with a letter and pictures from your plastic surgeon, will help to facilitate providing the necessary information to obtain authorization from your insurer prior to scheduling surgery. This is an important step, because an insurance carrier may refuse to cover the costs associated with surgery if the procedure is not authorized beforehand.
Being a good candidate for a surgical procedure also means you have a thorough understanding of the condition and the intended procedure. Breast reduction surgery is one of the most patient-pleasing procedures we perform. If you feel large breasts are interfering with your daily function, ask to visit with at least one plastic surgeon, certified by the American Board of Plastic Surgery, to learn about your options for breast reduction. Your family, your personal physician and your experienced plastic surgeon, can help you make the decisions that are right for you.
5 Important Facts You Should Know
There are five most important facts every woman should know about breast reduction surgery. Breast reduction surgery removes excess skin and breast tissue to achieve a breast appearance in proportion with your body and to alleviate the discomfort associated with overly large breasts. During the procedure, once the skin and breast tissue is removed, the nipple is repositioned higher on the chest.
In our recent blogs, we discussed insurance coverage for breast reduction surgery and how a woman's weight can be a factor in the coverage decision made by your insurance carrier. We want you to be as informed as possible before you choose to have breast reduction surgery at the Bashioum Cosmetic Surgery Center, Ltd., so if you or a loved one is considering it, continue reading this blog! We hope these quick facts will help you better prepare for a consultation with your board certified plastic surgeon.
1. Will there be scars after surgery?
Scars are a product of all surgeries, but it is important to understand where breast reduction scars will appear.. Our breast reduction scars are located around the nipple, straight down to the fold beneath the breast and in the fold itself. They are the shape of a keyhole or anchor. They are inconspicuous and can be easily covered with clothing. However, when your breasts are uncovered, the scars will be visible. There are procedures which leave shorter or less scars, but in my opinion, these do not give as natural a breast shape once healed.
2. Will I lose feeling in my nipples?
Although rare, complete loss of nipple feeling can occur due to nerve injury. This may interfere with sexual arousal and breast-feeding. Ten to fifteen percent of patients experience some change in breast feeling. This can include loss of nipple sensation.
There are risks with any surgery. Infection, excessive bleeding, abnormal scarring, poor healing, slow healing, skin loss, changes in skin sensation, muscle or nerve injury, although uncommon, can occur. Although rare, loss of a nipple is possible. Fortunately, most problems resulting from such complications are correctable with additional surgery. You must completely understand your risk of complications before you choose to have breast reduction surgery.
3. How old do I have to be to have this surgery?
Breast development can continue into the early twenties. When breast reduction surgery is done before this time, there is a chance the surgery will have to be repeated. In addition, it may be emotionally difficult to adjust to the surgery during teen years. For these reasons, many insurance carriers will not cover the cost of a breast reduction if a woman is younger than eighteen years of age.
4. How long must I wait after breast-feeding before I can have breast reduction surgery?
You must wait for three to six months after breast-feeding before you can proceed with breast reduction surgery. This is due to an increased risk of blood and/or milk collections. In addition, it is impossible to predict what the size of your breasts will be until all the milk formation has passed.
5. Will breast reduction surgery increase my risks of breast cancer?
Breast reduction does not increase your risk of developing breast cancer. However, all women are at risk for breast cancer and one in eight women in the US will be diagnosed with a new breast cancer. If you have family members who have had breast cancer, your risk is increased. Examine your breasts monthly and have mammograms as suggested by your primary care physician. Remember that breast cancer can occur at any age and a physician must properly evaluate all breast lumps.
Contact Us
Thank you for choosing Bashioum Cosmetic Surgery Center to be your professional breast care cosmetic surgery center in Minneapolis and surrounding communities. Our center is honored to help all of our patients be confident and happy with the way they look and feel. If you have any questions about breast reconstruction or any of our plastic surgery procedures, please do not hesitate to contact us to request a consultation. Our staff will gladly assist you!