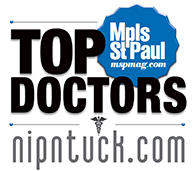 Meet Dr. Mahsa Moghaddam Smoot
Minneapolis Cosmetic & Plastic Surgeon

Dr. Mahsa Moghaddam Smoot, is a Mayo Clinic trained plastic surgeon specializing in cosmetic and reconstructive surgery. She is a Board Certified member of the American Society of Plastic Surgeons. Dr. Moghaddam Smoot's heritage is Persian, although, she was raised in Rome, Italy before moving to the United States in 1991.  She is fluent in Farsi, Italian and English.
Education & Training
Dr. Moghaddam Smoot received her Doctor of Medicine degree from the University of Sydney in Australia, and completed her residency training both in general surgery and plastic surgery at the Mayo Clinic in Rochester, MN. Because of her passion for working with children with congenital deformities, she pursued specialty training in craniofacial surgery at The Hospital for Sick Children in Toronto, Canada
Joining The Bashioum Cosmetic Surgery Center Team
Dr. Moghaddam Smoot joined Dr. Ralph Bashioum at the Bashioum Cosmetic Surgery Center, Ltd. in November 2013. Her soft-spoken, relaxed manner puts patients at ease, and her empathetic nature allows her to focus on the individual concerns and needs of each patient. Although her practice covers all aspects of aesthetic and reconstructive surgery, her special interests include:
Breast reconstruction
Post bariatric surgery body contouring
Facial aesthetic surgery
Reconstructive surgery
Dr. Moghaddam Smoot has a particular interest in natural breast reconstruction with autologous fat transfer and natural facial rejuvenation with fat graft injections.
Dr. Moghaddam Smoot Has Hospital Privileges At The Following Twin Cities Locations:
Abbott Northwestern Hospital
West Health Medical Center
Maple Grove Hospital
St. Francis Medical Center
Fairview Ridges Hospital
Schedule Your Complimentary Cosmetic Surgery Consultation
If you would like to learn more about the cosmetic procedures that we offer, please contact us at our Wayzata, MN office. We will be happy to set up your complimentary consultations with one of our highly trained cosmetic plastic surgeons.
BASHIOUM COSMETIC SURGERY CENTER 445 Lake Street, Suite 210 Wayzata, MN 55391 877-647-6882