Friday Photo: Yellowstone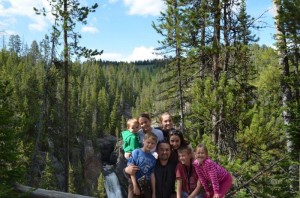 Dr. Mahsa Moghaddam and Dr. Rory Smoot took a break from the stormy MN weather to take their children to Yellowstone National Park for a week-long family vacation in June. Our group had sunny weather and clear skies to hike around the Upper and Lower Falls, Mammoth Springs, Old Faithful and Tower Falls. The children enjoyed spotting wildlife including bison, elk, deer, moose, antelopes and bears while Mahsa and Rory enjoyed the fresh air and exercise.
We took this photo while hiking around the Lower Falls. From left to right is Evan (18 months), Kiley (12), Ashlynn (13), Blaine (8), Rory, Mahsa, Trey (10) and Jacqueline (6).
COMMENT OR QUESTION